---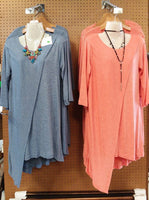 Product Details
Oh so comfortable dress for day or night. Rough edge style today's look cut out. A must have for your wardrobe. Great with leggings.
Brand: Umgee USA
Fiber Content: 65% cotton, 35% polyester 
Adorable. Comes in a Peachy color & Light purple/bluish color is the best I can describe it.